Wat doe je als je zwaartekracht plots roteert en de wereld je ontglipt?
Valdrift
korte film
Valdrift is een verhaal over een man lijdt aan zwaartekracht rotatie.
In de korte film Valdrift,  door mij geschreven en geregisseerd, is een verhaal over een man die wordt geconfronteerd met een hoogst ongelukkige situatie. Zijn zwaartekracht roteert en al snel valt zijn sociale leven uit elkaar.
Na verloop van tijd ontwikkelen de symptomen zich tot iets onvoorstelbaar. Artsen weten zich geen raad met deze opmerkelijke ziekte. Uiteindelijk kan hij zich alleen nog voortbewegen op de zijkanten van gebouwen.
In een dramatische wending ontmoet hij een vrouw met dezelfde aandoening.
Written and directed Jasper Wessels  |  Cast:  Frank – Stijn Koomen,  Falling woman – Thirsa van Til,  Stella  – Carlijn van Ramshorst,  Directeur – Rick Verstraten,  Arts 1 – Ad Fernhout,  Arts 2 – Gert-Jan Louwe,  Frank's mother – Sylvia Poorta  | Crew:  Producer – Andre Freyssen  |  Director of Photography – Gregg Telussa  |  Production design – Jan Willem vd Schoot  |  Editor – Tim Roza  |  Gaffer  – Eric Lohr  |  Boom Operator – Matt Kemp  |  Line Producer  – Sandra Keus  |  Music score – Adam Wiltzie  |  1st AD – Paul Zomerhuis  |  2nd AD – Felix Kops  |  1st AC -Adriaan van de Polder  |  Script Advisor – Nanouk Leopold  |  Production assistants – Caroline Verkade, Gina Broere  |  Art department – Diana vd Vossenberg, Lennard Eykman  |  Stunt Coordinator – Simon van Lammeren  |  Rigging – Han Wannemakers, Frank Bothof  |  Hair and Make-Up – Wendy Vermeulen, Marion Reef  |  Styling – Rosanna Gentenaar  |  Set Photographer – Walter Birkhoff  |  Set Assistent – Koen Freijssen, Leon Levin  |  Lighting Technician – Marten Jan Folkertsma  |  Dataloader – Wilbert Eerland  |  Visual Effects – Jasper Wessels, Barend Onneweer  |  Opening Credits – Michiel de Graaff  |  Sound design – Henk-Jelle de Groot  |  Mastering – Paul Boots  |  Catering – Paulien Muijser, Nadine Hofman  |  Making of – Winand Singh, Thomas Klomp  |  Poster design – Daisy Erades, Jorina van der Est  |  Extra's: Tamara Bosma, Herman de Jongh, Tijs Nederlof, Ronald Spaans, Nadia Daniels, Thomas Daniels, Jan Kassels, Henk van der Tak, Jolanda Braun, Carla Bes  |  Special thanks to Erasmus verzekeringen, Louis Verroen, Carlo Meijer, Art & Fly work, Fred Hoogsteder, Dura Vermeer, Esther van Vliet, Team Facilities, HTM, Het Licht, Action Pact, Frontline, TACT-agents, Nestlé professional, Cinerama, Grip4rigging, Annemiek van Gorp, Marieke Kolet, Jacques van Heijningen, Mart Dominicus, Maartje de Graaf, Seb Wessels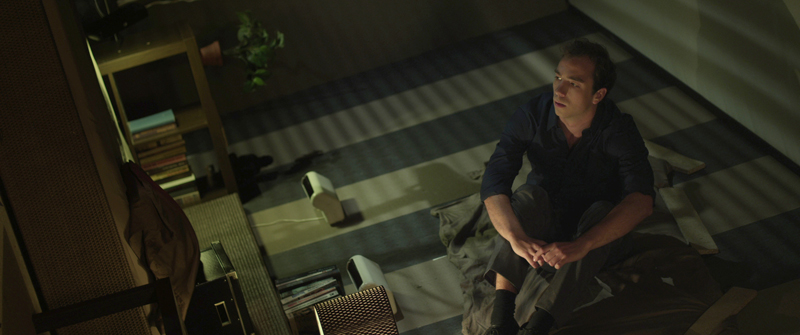 Valdrift heeft een Zilveren Méliès award gewonnen voor Shorts en is te zien geweest op verschillende filmfestivals wereldwijd.
Valdrift is geproduceerd door goede vriend Andre Freyssen van CCCP binnen het kader van 'Rotterdam Shorts'.
Valdrift is o.a. vertoond op het International Film Festival Rotterdam (IFFR), festivals in de Verenigde Staten (Palm Springs International ShortFest, Cleveland International Film Festival, San Fransisco en New York), Canada (STIFF & Toronto), Japan (Sopporo Film Festival), China (China International New Media Shorts Festival in Shenzen), Finland (Espoo Cine Film Festival), Germany (Berlin Interfest), Italië, het Verenigd Koninkrijk (Leeds International Film Festival) Frankrijk (Les Utopiales Festival International in  Nantes &  International Short Film Festival in Clermont-Ferrand) en diverse filmfestivals in Nederland.
Vergeet niet om  de 'Making of' video te checken.